Tackling South Africa's unemployment crisis, Avroy Shlain is empowering women with a self-employment opportunity that comes without any joining fee or qualifications required.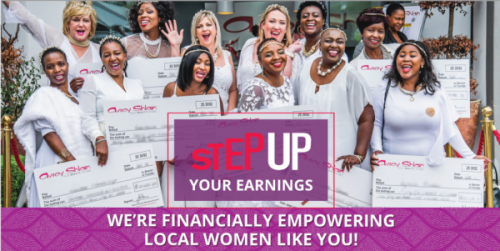 Midrand, South Africa - November 19, 2019 /PressCable/ —
With Nothing Standing In Your Way, The Time Has Come To Step Up And Earn Your Biggest Paycheque
Women in South Africa bear the brunt of the country's unemployment crisis. So, leading beauty brand, Avroy Shlain, is stepping in by ramping up their recruitment efforts, helping more women find the freedom they deserve. With a 46-year history of empowering women through their Beauty Advisor recruitment programme, Avroy Shlain shows their continued commitment to creating opportunities for success – all you have to do is Step Up and start earning!
As a local direct-selling beauty brand throughout Southern Africa, Avroy Shlain produces quality products that enable women to earn, grow, and gain control over their time and finances as they sell.
Not only have they set out the stepping-stones toward every woman's success, they've also removed any hurdles that might be standing in the way. With no qualifications or joining fee required, free training and support, as well as continuous growth opportunities, Avroy Shlain has provided a recruitment structure that meets the needs of the local market – both inside South Africa's borders, and further up into the continent.
"At Avroy Shlain, every month is Women's Month," says Regional Sales Manager Tshidi Kekana, emphasising the brand's nonstop focus on empowering and enabling women, "they've created confident, beautiful, and independent women."
With over 1 million women having joined the brand family as Beauty Advisors since its inception in 1973, the stories of women who've stepped up to pursue success are not hard to find.
Step-by-step rewards as you move forward
Avroy Shlain acknowledges the efforts of Beauty Advisors who work hard, sell big, and keep challenging themselves to grow. Their free training and long-term support ensure that every woman is empowered to succeed, no matter what their background may be, and if they hit their targets, Avroy Shlain is ready to offer them great rewards!
Gift sets, significant product discounts, cash bonuses, and even a brand-new car – all these perks give Beauty Advisors concrete, month-to-month goals to work toward, over and above the financial independence that comes from establishing and selling to individual clients.
So, if you need extra cash to pay school fees, help a family member, or simply improve your day-to-day quality of life, why not Step Up and start a new journey toward financial independence and self-sufficiency?
You can have the life you've always wanted – just sign up as a Beauty Advisor, and Step Up Your Life with Avroy Shlain today! https://avroyshlain.co.za/join-avroy-shlain
Contact Info:
Name: Makoena Mokoena
Email: Send Email
Organization: Avroy Shlain.
Address: 162 Tonetti Street Growthpoint Business Park, Johannesburg, Gauteng, 2146, South Africa, Midrand, Gauteng 1685, South Africa
Website: https://avroyshlain.co.za/
Source: PressCable
Release ID: 88934195